"Umuntu ngumuntu ngabantu"
The world watches with somber notes playing through their heartstrings.
The South African population is in a slightly euphoric state celebrating a mans life and the incredible potency of the legacy he leaves behind.
On this day in 1993 Nelson Mandela receives the Nobel Peace Prize in Oslo, Norway, with FW de Klerk.‪
Described as the paragon of human perfection, the embodiment of the agency of the human spirit, former President of The Republic of South Africa Nelson Mandela will have his state memorial today.
Broadcasted in every corner of the globe on various frequencies and media platforms, this is the funeral that will decimate all.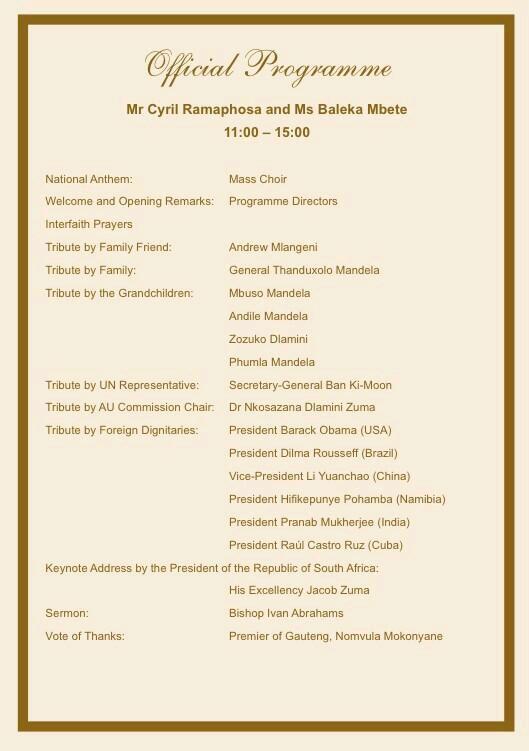 Social networks are abuzz with pictures and tweets praising the man, the heads of state, royals and other dignitaries who have landed in Pretoria and Johannesburg in order to pay homage to Madiba.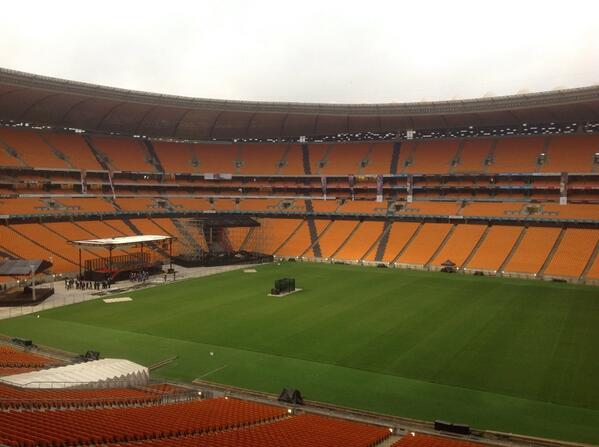 (Picture courtesy of Stephen Grootes)
This is the FNB Stadium where people are gathering and where the worlds high profilers will sit to reflect on the life of Nelson Mandela. Unfurled Banners which show iconic images of Madiba, as well as Screens showing his portraits are on and shining at the stadium.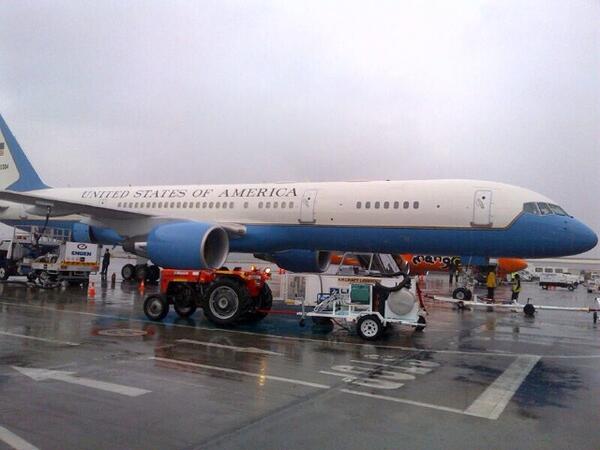 (Picture courtesy of Gareth Cliff)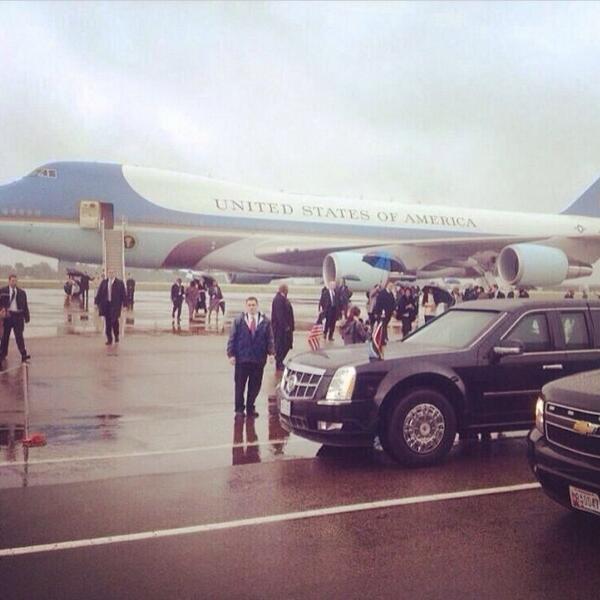 The convoy with American number plates and the flags of SA and USA on the bonnets.
The famed carrier of the United States of America Commander-in-Chief "Air Force One" landed an hour ago at Lansaria Airport carrying Barack and Michelle Obama. George Bush and Bill Clinton are expected at todays proceedings too.
5 Brazilian Presidents landed have been reported to have landed earlier on too.
Picture courtesy of @qoroq on twitter
Investigative reporter Anderson Cooper who is on location, has reported that the ambiance at the stadium is amazing as people are singing and dancing outside and inside. He recently interviewed entertainer and philanthropic activist Bono regarding Nelson Mandela considering his many joint collaborations on many projects for social development.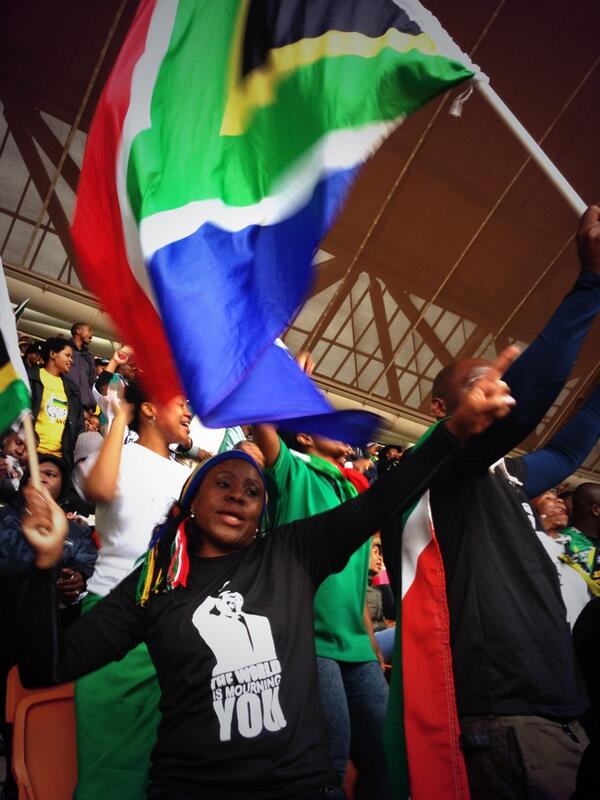 (Picture courtesy of Dan Calderwood)
This is the scene from the stands at the FNB Stadium
South African caricature genius Zapiro has a new one out in honor of Nelson Mandela and the late boxer Baby Jake who also passed away recently. Both men were boxers and now the heavenly host has 2 new boxers to join their divine garrison.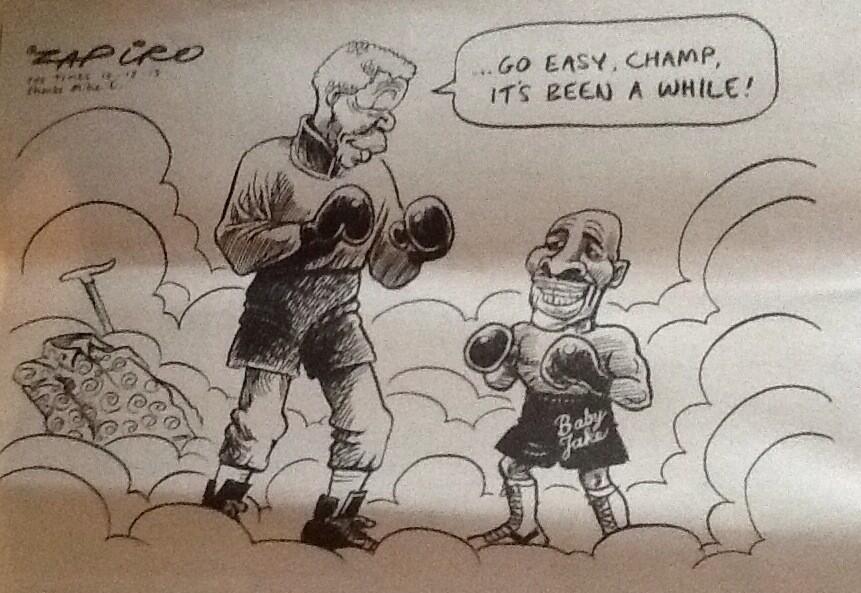 Again people are speculating about the subtle nuances of political strategy with the seating charts. The protocols must accommodate tensions faced by people like Raul Castro and the American presidents, Tony Blair and Robert Mugabe and lest we forget Hassan Rouhani and George W. Bush.
I'm not in Johannesburg but Ill be bringing you coverage all day.
News just in, South African native and Hollywood heavyweight Charlize Theron will land today in Johannesburg to attend the proceedings of this week. Madiba once praised her for how her acting work, following her win of an Academy Award, as her work has brought a new understanding to the vast capabilities South Africans are capable of.  He said: "She has put South Africa on the map. Even those who were ignorant of South Africa, having seen her, they must know now that there is a country like South Africa."
Picture courtesy of Daily Mail (UK)
A twitter picture of Charlize's arrival at the stadium
Also in attendance will be Oprah Winfrey, Bono and Naomi Cambell.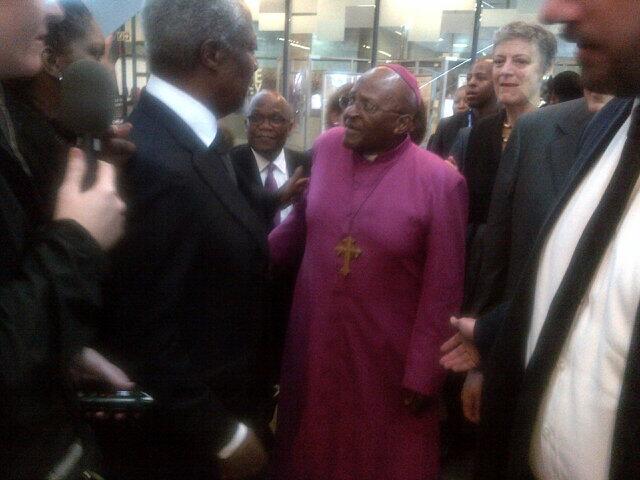 Picture courtesy of Carien Du Plessis
Archbishop Desmond Tutu and Kofi Annan arriving at the stadium.
Live footage is available from today at FNB Stadium
Related articles