I have this 'escape/research/enjoyment' thing I started doing in the last 2 months of 2017, when I discovered the 'Exclusive Books' within Victoria & Alfred Waterfront, Cape Town, housed a sensational bookstore cafe.
I was looking for another of H.P Lovecraft's surreal literary contributions, and stumbled – quite literally- into the evocative open-plan EB cafe.
"At Exclusive Books, our first love is literature. Our second is coffee. So naturally, we are delighted to introduce EB Café in our pursuit of the perfect experience."
Imagine the inevitable meet-cute in archetypal romantic comedies: The adorable comedic protagonist catches themselves right before falling, looks up, and is met with an exquisite example of the beauty that the human gene pool is capable of creating.
I had that experience with a cafe book store, folks.
That's not to say the cafe is objectively, a marvel all others are beholden to, but rather that its blue & white striped interior decor with lightwood wall-to-wall magazine racks filled to the brim with the latest in glossy global editorial spreads, is the cool hand resting over a fevered creatives head.
I needed the reprieve. I needed the resources. I needed the solace. I needed to feel welcome, inspired & well-fed (body and soul).
Writing this post here, has actually spurned a bout of professional agency leading to strides in my 2018 career goals , which I'd be hard-pressed not to credit to this cafe.
Anyway, Vogue enters (where it wishes) into this equation thanks to the 11th British Vogue Editor Edward Enninful.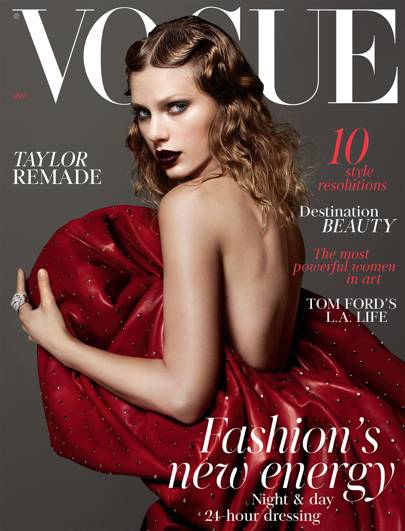 In his 2nd issue editing for the fashion bible's tea-drinking sibling, Enninful mentioned "Reinvention and Renewal" and "…making a more profound life change in January[2018]" and I am here for this!
The vision I have of my life as a creative, is never more clear than when I'm flicking through some of the previous Vogue issues, for the simple reason that all the materialistic, and cosmopolitan blah-blah ways you envision a 'cultured' city girl to be, I am. Without too much specificity, I can attest to – heart willing but wallet unwilling – having the soul & expansive taste of a sophisticated Vogue girl. I know who I am as a creative because the city streets they speak of, shoot at, and pitch forward, are home to me – whether I've stepped foot there or not.
With renewed vigor, my 2018 goal is to move to one of the cities beyond my own African continent.
The best New Years gift willed to us by fashion authority Edward Enninful, is a legitimate & tangible zeitgeist towards the cost-saving endeavor of reusing our wardrobe goodies with apropos style zeal. Sure, Brit Vogue's Jan 2018 issue is, throughout the glossy real-estate they sell to the highest fashion house, pushing you to buy high-end labels to add to your collection; but what this issue has unconsciously permitted, is us manifesting as paragons of reinvention.
Despite the continued parade of lackluster celebrity's gracing a Vogue cover with a 4 page+ interview and shoot (succeeding only in irritating readers with its singular rhapsody of the aforementioned star) the Brit Vogue issue of Jan 2018 does what I'd always advised fashion designers to do: either give me something new, or reinvent an existing trend in such a way as to make me forget about its predecessors.
Kids are allowed opinions now, and have become fashion inspirations we low-key envy(for their style and size – bite sized is still in). The hardened fashion staples such as the 'florals in spring' motif, are being hardened with sturdy soles – shoes of all seasons being the new jewelry to complete /transform an outfit. Everything you've teased someone about, is back in for the century, and yes, that includes fur & shorts, clunky sneakers and frumpy jerseys.
Sportswear has never been a passion of mine, save for the cultured finesse threaded by Puma in its athleisure, but this issue has me coming around to the idea of its longevity from streetstyle fad, to everywear that makes sense.
Global warming is giving us four seasons in a day, so Vogue gave their stamp of approval to celebrities and their influence; and – label, trendy or not – now you get to literally grab whatever's good for that hour,and run with it.
I do believe fashion, beauty and lifestyle have evolved to a point where there is more strangeness to buying a whole new outfit, rather than rustling through that teetering pile of oldies-but-goodies, for pieces of an outfit.
For your look , you're to maybe: add your friends borrowed earrings from that one time, fill up your new clutch from H&M, and swaddle yourself in dads cardigan for effect; slap mums lipstick on and secure- Lord, we hope – your own undergarments before heading on out. That's the styling theme of the decade, and its something I'm marrying into my 2018 career outlook. Let me not try and entirely remove myself from the perceived dullness & stability of my current job in the search for something new, but mold a patchwork of skills & experience, old and new, into a hunt for some imagined beatific path.
Pray for me! This naive optimism will result in tears I'm sure.
Print is one of the few mediums wherein a rare ability can be wielded, to arouse empathy for diversity. Leaving out the voices of those beyond your ideal target market, would be damaging…and so Vogue has learned its lesson and decided to print better, demanding diversification of marketing and advertising content and its distribution channels. Despite how aspirational Vogue is, and the way in which 'regular' is in defiance of its systematic conception, this issue has sent out a message that they are ready to empathize with the fundamental fashion divide: the logic of disposable income. We'll see whether they understand it enough to develop attainable and sustained fashion guidance.
They say "clothes are agents of mood change."
I think I'm in the mood for travel, hard-work and excess…what do you wear on such a mission?